Calgary Vinyl Signs, Graphics, & Banners
VIEW GALLERY
Take your branding to a new dimension with dynamic vinyl signs and graphics! Providing virtually unlimited applications and options, vinyl can brighten any workspace or brand any vehicle, wall, door, window, floor, or surface!
Whether you are looking for banners, wayfinding graphics, logo signs, murals, or some other impactful signage elements, vinyl may be the right choice for you! With many choices for weight, colour, finish, and application method, Calgary Signs & Wraps uses our industry knowledge to recommend the perfect vinyl solution for your unique promotion needs!
Vinyl is durable enough to be used just about everywhere. Whether you need an impactful window display, wayfinding signage in high-traffic areas, or an advertising protective layer for your vehicle, vinyl has a solution to fit any need. Calgary Signs & Wraps is your Calgary vinyl wrap provider, delivering the high-quality, attractive signs and graphics you need to get your business, brand, products, and services noticed!
Call Calgary Signs & Wraps at (587) 206-0780 for your Free Consultation with a Vinyl Graphics Specialist!
Promotional Vinyl Banners
Vinyl banners are the most requested signage option we have. With various sizes, colours, weights, and display options, vinyl banners can be used for nearly any promotional event. Our banners are printed directly on a heavy-weight durable vinyl that proudly and attractively displays your business name and information. Many businesses have found our banners to be an ideal solution when directing traffic through their facility, when supporting staff at expos, and even for announcing new products or grand openings.
Do you need a full display of banners for a tradeshow or a few banners for your satellite company? Calgary Signs & Wraps has the tools, resources, and experience to help you achieve your promotional goals with our attractive, impactful signage solutions.
Window Vinyl Clings & Film
Many vinyl options are intended for window and glass applications. These options allow you to provide privacy to your guests, or as a dynamic promotional window display to increase customer traffic. Regardless of your goals, Calgary Signs & Wraps has the solution you need.
Promotional displays include individually cut vinyl elements that are applied using either a static-cling adhesion or with temporary sticky glue. This type of window vinyl allows you to change your display as new products or services become available, and if stored correctly can be used for multiple applications.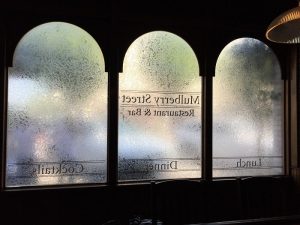 Privacy window film is popular among restaurants, offices, and professional service providers that want the look of permanent etched or frosted glass without the substantial cost associated with removing and replacing those window panes. This option is also ideal for anyone operating out of rented spaces or cannot remove and replace entire windows.
Window cling and privacy film come in various texture and styles that can easily be customed with your logo or message for that professional look you've always wanted.
Cut Vinyl Lettering
Potential customers expect to find specific information before they even enter your doors. Making your front door an ideal place to start improving the professionalism of your business. Having your hours of operations, business license, accessibility, or other pertinent information printed directly on your door goes a long way to creating the right first impression.
Cut vinyl graphics and lettering is an impactful, professional way to share your business information and impress your clients that you are a business they can rely on for quality products or services.
The best way to impress potential customers and clients is through custom-made vinyl graphics that provide your customers with important information when they need it most.
Wall Murals & Floor Graphics
Do you want to increase your brand identification, tell the story of your companies history, or assist customers to navigate your facility with attractive wayfinding signage? Wall murals can provide you with the solution you need and much more. These murals can be applied to just about any smooth surface, allowing you to utilise almost any surface as a brand building opportunity.
Calgary Signs & Wraps crafts attractive, durable wall murals that turn any boring wall or hallway into an eye-catching impactful work of art. Our team of experienced designers can help determine placement, and assist with design, fabrication, and installation of your large format graphics for the impactful signage you desire.
Your walls aren't the only place where your marketing message can go! Your floors provide an excellent opportunity to promote your brand, provide customer support or provide wayfinding assistance. Our durable floor graphics offer an attractive finish that can be applied to tile, wood, concrete and even some low pile carpets, allowing you to maximise your brand recognition and promotion throughout your facility.
Attractive and impactful floor graphics are ideal for tradeshows, expos, and events by providing intuitive directional support to attendees.
Vinyl Graphics Options
Choosing the right vinyl option can be confusing and challenging. With so many options to consider, including weight, colour, size, finish, and application methods, ordering from a website can be an ordeal in and of itself.
To alleviate the frustration and making the signage process enjoyable, Calgary Signs & Wraps offers a free vinyl sign consultation. During our free consultation with you, we discuss your needs, goals, and your the intended use of your signage. This allows us to understand what you need and make recommendations that fit your budget, goals, and wishes. We strive to create signage that makes you as proud to display as we are to have made it.
Popular uses for vinyl graphics include:
We believe for a sign to be effective it needs to not only fit your business but reflect your professionalism. We tailor all of our Calgary, AB signage solutions to suit your business and can change the design or size of any banner, mural, or display element.
Full-Service Vinyl Graphic Shop
Calgary Signs & Wraps is your local full-service vinyl signage shop. We completely handle your signage project from design through manufacturing and installation. Using our state-of-the-art equipment and high-quality, sustainable materials, we produce everything right here in our signage shop, eliminating the costs associated with sourcing materials from a third party provider. Whether you have an unlimited budget or are working on a tight budget, we will provide you with the signage you need to get your business growing by increasing your brand recognition with our attractive, durable vinyl signs.

We provide full design services and support to help you achieve your goals. Our design team will listen to your needs and goals and work with you to bring your sign to life. Whether you have existing brand guidelines, ready-to-print files, or nothing at all, we will design a proof of what your signage project will look like for your approval. This is an ideal time to adjust any aspect of your project including the size, font, colour, or text. This is your sign, we want it to be perfect for you.
Once your final project is approved, we will bring your project to life during our fabrication phase. For many of our vinyl products, we offer professional installation to ensure your signage is free of wrinkles, warping, bubbles, and tears. If your vinyl product is simple, self-installation is an option, and we are here to offer advice and tools for success.
Free Vinyl Signs & Graphics Consultation
As your local Calgary vinyl signage provider, our mission is to provide you with attractive, durable vinyl graphics and signs to increase brand visibility and recognition, and promote your business to help you can achieve your marketing goals. Whether you need window clings, cut vinyl lettering, vinyl banners, vehicle wraps, or any signage you can imagine, Calgary Signs & Wraps is your reliable signage partner for all of your personal and business needs.
Call Calgary Signs & Wraps at (587) 206-0780 for your Free Consultation with a Vinyl Graphics Specialist!